The first new Dune novel in 2-1/2 years, SISTERHOOD OF DUNE, is released in the US tomorrow, Jan 3.  Brian Herbert and I are launching our "double tour," with Brian doing the initial signing at University Book Store in Seattle and I'll be at the Barnes & Noble in Lone Tree (Denver area).
***Everyone who attends one of the signings will receive a gift card for a free Kevin J. Anderson eBook.  We'll also have bookmarks, posters, and other goodies while they last.  And don't be surprised if you see stormtroopers, Mandalorians, or other costumed characters at some of my signings.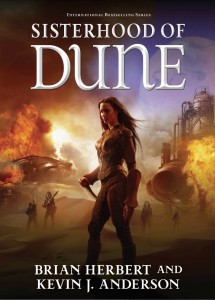 TOUR DETAILS
Brian and I hope to see you at one of our events
Jan 3, Tuesday
DENVER: Kevin—B&N, Lone Tree, CO/7pm
SEATTLE: Brian—University Bookstore, Seattle, WA /7pm
Jan 4, Wednesday
MINNEAPOLIS, MN: Kevin—Uncle Hugo's/5:30 PM
PORTLAND, OR: Brian—Powells Books/7pm
Jan 5, Thursday
CHICAGO area: Kevin—Fremont library, Mundelein IL/7pm
Jan 6, Friday
DAYTON, OH: Kevin—Books & Co at the Greene/7pm
SACRAMENTO, CA: Brian—B&N/7pm
Jan 7, Saturday
CINCINNATI, OH: Kevin—Joseph-Beth Bookselllers/1 PM
Jan 8, Sunday
ATLANTA (Decatur): Kevin—Eagle Eye Bookstore/2 PM
REDONDO BEACH, CA: Brian—Mysterious Galaxy Redondo Beach/2:30pm
Jan 9, Monday
ORLANDO: Kevin—B&N East Colonial Dr./7pm
PASADENA: Brian—Vroman's Bookstore/7pm
Jan 10, Tuesday
DALLAS: Kevin—B&N West NW Hwy/7pm
Jan 11, Wednesday
HOUSTON: Kevin—B&N The Woodlands/7pm
SAN DIEGO: Brian—Mysterious Galaxy /7:00p
Jan 14, Saturday
BELLINGHAM, WA: Brian—Village Books/2pm
Jan 15, Sunday
BURNABY, BC: Brian—Chapters Metrotown
For addresses and full tour details, click here.