It's like one giant mosh pit of fans!
Rebecca and I arrived in San Diego for Comic Con on Thursday afternoon; we have been almost every year for nearly twenty years now, and it's always a blur of energy and excitement. We got checked into the hotel, I picked up our badges while Rebecca unpacked. Right away I bumped into Dave Dorman and his wife Denise, and Wolfgang Bylsma, publisher of Gestalt Comics (largest comics publisher in Australia—and we'll be having a big project to announce in a few days!) I wandered around the floor for a while, seeing our friends at Mysterious Galaxy bookstore, Galaxy Press, Tor Books, Pocket Books, and a few others. We had dinner with our friends Mary and Cherie (Mary is my typist…just about to start on MENTATS OF DUNE), and then I went off to a Wikia party at the Hard Rock Hotel while Rebecca crashed early.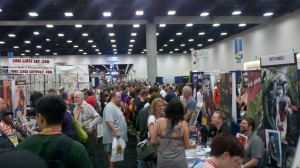 Friday was our first full day, and a day full of meetings. We had breakfast with John Grace, my editor at Brilliance Audio, then joined our friend Harry Kloor, met great comic artist Rantz Hosely, before we went off to have lunch with Matt Gagnon from Boom! Studios. (At times, it seemed I spent most of my Comic Con time away from the actual show floor.)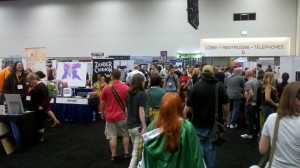 Friday afternoon was my main event, the Scribe Awards ceremony, given by the International Association of Media Tie-In Writers, where Max Allan Collins presented me with the "Faust Award" for Lifetime Achievement. Other tie-in writers received their awards, and then we spent much of the hour talking to a packed room about the challenges (and, sometimes, headaches) of working with complicated licensed properties.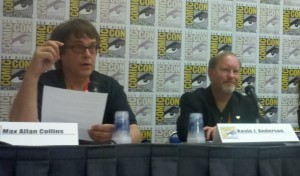 Max Allan Collins and Kevin J. Anderson at the Scribe Awards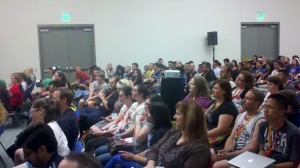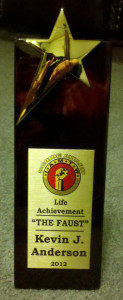 We had a very enjoyable dinner with fantasy writers Christopher Paolini and Robin Hobb, a three-hour dinner (partly because of entertaining conversation, partly because of excruciatingly slow service!)
Next morning, Saturday, we had breakfast with John Goodwin from Galaxy Press and Writers of the Future, did a brief tour of the show floor again (the first time Rebecca had actually gone inside the convention center this year), hung out at Dark Sky Pictures with Harry Kloor, Gary Graham, and Reggie Bannister, before heading out to lunch with comics writer, novelist, and game designer Rachel Stavis and her guy Daniel Boutros; they introduced us to the chairperson of Stan Lee's Comikaze which is held at the LA Convention Center, and it looks like we'll be going there this year as well.
Back to the convention center to see more exhibits. I signed and gave away a lot of preview booklets for Clockwork Angels: The Novel, and Death Warmed Over postcards. We bumped into my audiobook narrator Scott Brick, Steven L Sears (exec producer of Xena: Warrior Princess…yes, we'll be announcing a big project in the next few days), and voice actor Neil Kaplan and his wife Sharon, our good friends we met during Supanova in Australia last year. Dinner with Harry and Rayna Kloor, then later hung out at the Marriott bar with Tom Kenny (voice of Spongebob Squarepants) and  Bill Fagerbakke (voice of Patrick the Starfish), Daniel Gregoire (previz artist for many films, including John Carter, Revenge of the Sith, Indy IV) as well as roller derby pro Nerd Rage…yes, only at Comic Con.
Sunday, coffee with our audiobooks agent, and then coffee part deux with Wolfgang Bylsma from Gestalt Comics and Steven L Sears (did I mention we'll be announcing a big project in the next few days?) and late lunch with Steve Saffel, my editor from Titan Books (Captain Nemo and the forthcoming Martian War), then more wandering around the show floor as everything was wrapping up on Sunday afternoon.
We had our traditional "sigh of relief" Sunday dinner at the Karl Strauss brewery with Neil and Sharon Kaplan, Wolfgang Bylsma, Daniel Gregoire, award-winning comic writers Tom Taylor and Justin Randall, and SF author Peter F. Hamilton.  And excellent beer…to end an excellent Comic Con.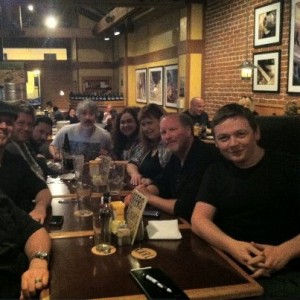 Sigh of Relief Dinner at Karl Strauss Brewery, left to right—Justin Randall (elbow only…), Tom Taylor, Peter F. Hamilton, Daniel Gregoire, Neil and Sharon Kaplan, Rebecca Moesta, Kevin J. Anderson, Wolf Bylsma. (photo by waitress).