ROSWELL SIX RELEASES "TERRA INCOGNITA: A LINE IN THE SAND"

Rancho Santa Margarita, CA
Following up the success of the first effort, international bestselling author Kevin J Anderson and ProgRock Records announce the second Terra Incognita CD, "A Line in the Sand" to coincide with the publication of the second novel in his fantasy trilogy, The Map of All Things.  "This CD features a different, grittier part of the story, focusing on the devastating generations-long war between continents, and it has an entirely different sound," said Anderson.
This time, the music is helmed by Henning Pauly (Frameshift, Chain, Shadows Mignon) and features an extensive new cast of performers. "Henning is absolutely perfect for this type of music, with hard-driving guitars, passion, and thought-provoking complexity," said Shawn Gordon
of PRR.  "Kevin's been a fan of Henning's music for years, and this seemed to be a perfect match."

"Terra Incognita: A Line in the Sand" vocals are by rock legends Steve Walsh (Kansas), Michael Sadler (ex-Saga), and Sass Jordan (Album Rock's Female Vocalist of the Year), Nick Storr (The Third Ending), and Alex Froese (Frameshift) with guest appearances by Charlie Dominici (solo, original Dream Theater vocalist), Arjen Lucassen (Ayreon and many others), and Juan Roos (Shadow's Mignon).
Anderson and his wife Rebecca Moesta penned the lyrics/story again and even cowrote two songs with multi-Grammy winner Janis Ian ("Society's Child," "At Seventeen," etc.).   Due to commitments to their own bands/projects, Erik Norlander and some of the original performers were unable to participate in the second CD.
"With two CDs and two novels, this takes Terra Incognita into unprecedented territory," said Anderson.  "Progressive rock has always focused on story and ideas.  The union of music and prose has never before been done on this scale."  Both "A Line in the Sand" (ProgRock Records) and The Map of All Things (Orbit Books) will be released in June.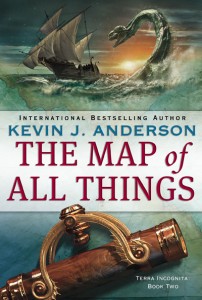 Listen to three sample tracks on the ProgRock Records website.
The website also has preorder information for both the CD and the novel.  The first 50 orders will receive an autographed manuscript page from the book.