An international cadre of authors and musicians team up in an experimental fusion of reading, technology, and music—the newest grab bag of entertainment goodies from storybundle.com.
I'm one of the curators for storybundle, and I've put together science fiction, fantasy, and horror bundles before, plus a forthcoming bundle of Urban Fantasy and another bundle of books on the craft and business of writing to be released in November (Nanowrimo month). Today, storybundle.com is launching an innovative new multimedia bundle, with an amazing mix of fantasy fiction and fantasy music—music that tells a story, the perfect soundtrack to your reading.  Eleven writers and musicians have teamed up to offer the Fantasy Music and Books bundle.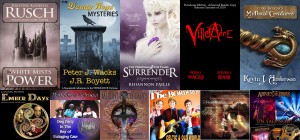 Bundles are great deals for readers and for indie writers alike—and now, indie musicians, too.  In the Fantasy Music and Books bundle, five authors and six musicians offer a wide variety of works—and readers pay their own price, from as little as $3 to as much as you like. Readers will get fiction by bestselling and award-winning authors, including Kristine Kathryn Rusch, Rhiannon Paille, Peter J. Wacks, Steven L. Sears (Xena: Warrior Princess), and an original "Terra Incognita" tale by me, and music by Abney Park, Pandora Celtica, S.J. Tucker (with an unreleased album "Stolen Season"), Heather Dale, the Borderers, Heather Alexander, and my own Roswell Six. The music styles range from Renaissance a capella to fantasy prog to steampunk rock.
You might like some of the music more than others, but you get it ALL, plus the fiction, for less than the price of one CD—so why not take a chance?
And this bundle has Easter Eggs—bonus content that gets unlocked automatically as more bundles are sold, cool innovative stuff such as previously-unreleased tracks by some of the music groups, new stories, even whole books, including the personal memoir and history A Brief History of Jazz Rock, by famed comic writer Mike Baron.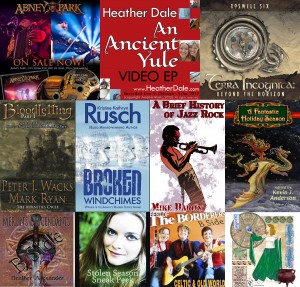 For those who followed my work on the epic "sailing ships and sea monsters" Terra Incognita fantasy trilogy, you heard me talk about working with some of my favorite rock stars to develop two companion music CDs. My wife Rebecca and I wrote the lyrics to songs that highlight one of the storylines, and our record label, Shawn Gordon's ProgRock Records, put together a supergroup "Roswell Six" featuring the lead singers from Dream Theater, Kansas, Asia, Saga, and others, in a great fantasy rock CD.  That CD is one of the pieces of the extended bundle, as well as my Terra Incognita tale "Mythical Creatures."
And a portion of the proceeds goes to two excellent charities, the Clayton Medical Fund, a cancer charity by the late SF writer Jay Lake, and the Challenger Learning Centers for Space Science Education.
As a reminder, there's only a week left to go on my Cosmic SF Bundle, also from storybundle.com—science fiction books by classic and cutting edge writers, Frank Herbert, Brandon Sanderson, Anne McCaffrey & Jody Lynn Nye, Kevin J. Anderson & Doug Beason, Michael A. Stackpole, Peter J. Wacks, Kristine Kathryn Rusch, Mike Resnick, and Jay Lake & Ken Scholes.
This partnership with Story Bundle is an experiment, and may be the new face of digital content partnerships, allowing fans to pay what they can afford while receiving work from their favorite groups, and finding new authors. This partnership, if successful, will also give artists and authors a new distribution outlet for their work.