Library Journal just posted their review of UNNATURAL ACTS, the second novel featuring Dan Shamble, Zombie PI.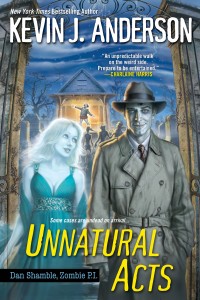 Anderson, Kevin J. Unnatural Acts. Kensington. (Dan Shamble, Zombie P.I.  Bk. 2). Jan. 2013. c.325p. ISBN 9780758277367. pap. $15. FANTASY
Zombie PI Dan Chambeaux (or Dan "Shamble"), along with his human partner, activist lawyer Robin Deyer, and his ghostly girlfriend Sheyenne, tackle an illegal sweatshop that employs golems as slave labor, confront a senator who condemns the "unnatural" lifestyles of the supernatural creatures that now populate New Orleans's Unnatural Quarter, and investigates the security problems that beset the mummified madame of a local brothel. Having already solved his own murder in the series opener, Death Warmed Over, Shamble and his allies continue to act as a force for justice and coexistence in a world that has grown increasingly diverse since the Big Uneasy broke down the barriers between the mortal and supernatural worlds. VERDICT The coauthor (with Brian Herbert) of the new Dune series and author of The Last Days of Krypton continues his foray into urban fantasy and tongue-in-cheek noir mystery with another satisfying tale of detective derring-do that should please fans of fiction revolving around zombies, ghosts, and other supernatural creatures.
ALSO AVAILABLE NOW