After three highly successful Superstars Writing Seminars—Las Vegas in 2012, Salt Lake City in 2011, and Pasadena in 2010—we are putting together next year's event. Superstars 2013 will be in Colorado Springs, Colorado, May 14–16 at the historic Antlers Hotel at the base of Pike's Peak. (This is the place where Katherine Bates wrote the song "America the Beautiful" in 1895—so it already has a creative history, not to mention a spectacular setting.)

The Superstars Writing Seminars are intensive three-day events about the business side of publishing, writing, and managing your career—taught by five international bestselling writers, as well as impressive guest instructors.
► Economics of Commercial Publishing
► How Editors Look at Manuscripts, Novels, and Short Fiction
► Dissecting a Book Contract
► How to Read and Understand a Royalty Statement
► Dirty Secrets: What You Need to Know About Being a Professional Author
► How to Leverage Your Intellectual Property
► Balancing Acts: Writing World and Real World
► Agents
► Networking and Self-Promotion for Authors
► Understanding E-Books
► Pitching the Big Proposal
► Two Heads Are Better than One: Collaborations
► How to Get an Edge with New Media
► Movies, TV, and Authors
► How to Increase Your Writing Productivity
INSTRUCTORS: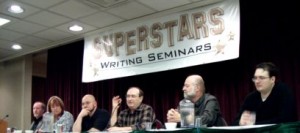 For full details, plus testimonials and sample audio and video clips, see the Superstars website.
Special rates for students and alumni.  Prices go up December 31.