Readers of my blog have seen many of my photos of the spectacular wilderness locations I've explored. My brother-in-law Tim and I have climbed all 54 Fourteeners (peaks over 14,000 ft) in Colorado, and we've also completed over 400 miles of the Colorado Trail.
This year, we've produced a beautiful 2013 calendar of our outdoor photos taken on the Colorado Trail. Each month contains an original story of one of our hiking experiences, as well as photographs of stunning wilderness we've encountered.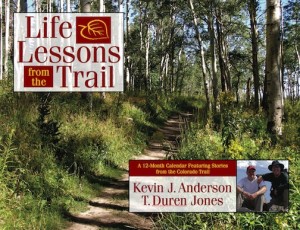 We produced these 2013 calendars as special gifts for friends, family, and business associates, but we are printing a limited number of additional copies to make available to fans.
You can order your 2013 "Life Lessons from the Trail" calendar now for $15, while supplies last. Each copy is autographed.