Before the release of CLOCKWORK ANGELS issue #1 from BOOM! Studios, I wrote the following article for Rush.com, but the Anarchist somehow contrived to have it fall through the cracks.  Here it is:
Stories to fire my imagination…
I can't stop thinking big…
While our loving Watchmaker loves us all to death…
When Neil Peart first started bouncing ideas off of me for the story behind the new concept album Rush was developing, his excitement was clear. He had vivid images in his head, scenes for part of the story that would eventually become songs on the album: an innocent young man set up as a patsy in the middle of a steampunk carnival and left holding a bomb by an evil Anarchist, the fabled city of Poseidon that turns out to be far less than its legend would imply, lost cities of gold, pirates called the Wreckers who lured ships to their doom, and the ethereal mechanical Clockwork Angels, as well as the Big Brother-style Watchmaker who keeps the whole land running like clockwork.  Steamliners, quests, airships, sea voyages, mysterious pedlars—it all sounded wondrous to me.
I have stoked the fire on the big steel wheels, steered the airship right across the stars…
For months we developed the characters and stories as Neil wrote the lyrics, sending me each new song as it was finished, and I began to outline in detail what would become CLOCKWORK ANGELS: THE NOVEL. Hugh Syme began sending us paintings inspired by the scenes; I would send Hugh and Neil drafts of the chapters (and Hugh came up with the absolutely perfect honeybee symbol for the Watchmaker after reading an offhand description in one of my chapters; we liked that so much that the honeybee as well as the Watchmaker's apiary, became a central focus for that part of the tale.  When I finally got to hear the rough cut of the whole album, hearing Alex's guitars, Geddy's vocals and bass, and of course Neil's drums, the whole world of the Watchmaker suddenly took on a much more complex dimension. It came alive in my imagination, and I tried to make sure of that when I finished the novel.
When the novel was published shortly after Rush launched the CLOCKWORK ANGELS tour, it immediately hit the New York Times bestseller list—thanks in large part to the legions of Rush fans who had preordered it. Not only was this the very first NYT bestseller the publisher, ECW, had ever had, we hit the bestseller list exactly on Neil's 60th birthday, and I was able to text him with the good news just before he went on stage. Great way to start a show!
But as we built the story, created the scenes, saw Hugh's paintings, it became obvious to me that CLOCKWORK ANGELS was such a visual story that it seemed made for adaptation as a graphic novel. Two months before the release of the hardcover novel, I was at San Diego Comic Con as a guest, and, armed with a pre-release copy of the novel and color printouts of Hugh's paintings, I had lunch with Ross Richie and Matt Gagnon from BOOM! Studios, one of the larger comics companies—big enough to be a powerful force in the market, but not so big that they were a mountain of bureaucracy.
I also happened to know that Ross Richie, the publisher of BOOM!, was a big Rush fan.
When I showed them the property, they immediately saw the potential and it didn't take us long to decide this was a project we wanted to do.  With the release of the novel and my own promotional tours, as well as the extensive CLOCKWORK ANGELS tour, it took us a while to get the gears turning.  But now it's all surging ahead…on a headlong flight.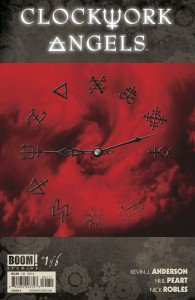 As for Neil's background in comics, he wrote,"When I was growing up in the '50s and '60s, comic books were a VERY important part of my life. I devoured hundreds of them, I realize now — all of the superheroes, and everything else from Archie and Veronica to "Classics Illustrated." (Some truly WEIRD ones, too — what was that bizarre giant creature that floated around holding a balloon?)
"On a family car trip, I might be allowed to select two new comic books from a drugstore rack, and that was about as thrilling as could be for a suburban Canadian boy. Over the years, I shared all the typical flashlight-under-the-blankets experiences.
"Comic books entertained me, delighted me, inspired me, and definitely taught me a few things, too. In Grade 8 I won a public-speaking medal for a speech about General Douglas McArthur that was "researched" in one of the World War II comics that were also popular in that era.
"It occurs to me now that not only have I grown up with comic books, but comic books have grown up with me. The rise of the graphic novel has been a wonderful evolution, and I am very pleased that Clockwork Angels will be appearing in that genre. Kevin's words and Nick's art are making my visions live and breathe — a phenomenon I call "artificial reality" — and it is exciting to be a part of it."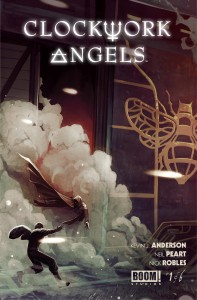 I have already written the first three scripts (of six issues)—NOTE: Five done now; BOOM! sent us some art samples, and both Neil and I loved the work of relative newcomer Nick Robles, whose color, style, and sensibilities seemed to match our vision perfectly.  Working together with the editorial team at Boom! we've created something special. The first issue comes out in March and is currently available for preorder on the Boom! Site (http://www.boom-studios.com/clockwork-angels-6-issue-subscription.html).
The Watchmaker has time on his hands…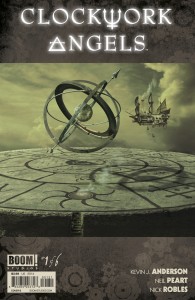 Some of the other artwork has been released in previous interviews, but here's a special treat for rush.com: the exclusive premier of Nick Robles's design for the Watchmaker, a man who is alchemically preserved, who has held Albion under perfect control for more than two centuries.
While our loving Watchmaker loves us all to death…
—Kevin J. Anderson