I've already written three novels featuring the hilarious adventures of Dan Shamble, Zombie PI, along with his ghost girlfriend, his bleeding-heart lawyer partner, and his Best Human Friend Officer Toby McGoohan.
Now you can read a new standalone Dan Shamble novelette, STAKEOUT AT THE VAMPIRE CIRCUS—an original case for only $2.99 in all eBook formats.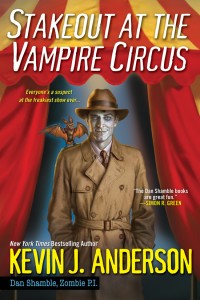 "LADIES AND ZOMBIES, IN THE CENTER RING…"
Zombie P.I. Dan Shamble and his ghost girlfriend are called to the Vampire Circus when a fortune teller's cards go missing. Not exactly the glamorous life, but the stakes escalate when a vampire trapeze act goes dead wrong, and Shamble discovers even more skeletons in the closet than the ones that live there. As he shuffles for clues through an unnatural cast of carnies, he faces a slate of suspects that could freak out even the most daring detective—a werewolf lion tamer, a fat lady with an enormous secret, an undead ringmaster…and what could be scarier than a circus clown? The only thing certain is that the show must go on—dead or alive.
Click here for Kindle
and on iBooks.
He's back from the dead and back on the case!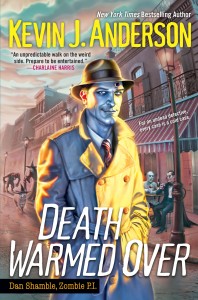 available now
January 2013
May 2013