Here's a brand-new, never-before-published original story featuring Dan Shamble, Zombie PI.  "Road Kill"—When Dan Shamble, Zombie PI wakes up in a coffin in the back of a semi truck, he knows it's not going to be a good day. He has to escape, figure out what's going on, foil a black-market blood-smuggling ring—and make sure he's not dead on arrival!
Because I love this series so much, I am offering the story for free.  It will be available for free Kindle download for three days only, through Saturday. Click here for the link.  OR you can get the free pdf by signing up for our fan club on the http://www.wordfire.com homepage. (If you're already a member, you should have received an email with the direct link.)  "Road Kill" will also be available for Nook or Kobo at 99¢.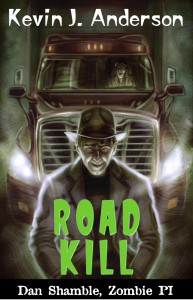 If you're a Shamble fan, or if you've never tried one of his adventures, YOU NEED THIS. (I can be as relentless as a hungry zombie, because I love this series so much). Cover art by Jeff Herndon.