The 2013 Superstars Writing Seminar is shaping up to be the best ever, with yet another great guest speaker—James A. Owens, returning after his popular appearance at the Las Vegas Superstars.  James A. Owen has been working professionally as an illustrator and storyteller for more than two decades. In 2003 James won the AI award for Best Novel, and was nominated alongside books by Stephen King and Michael Crichton for the prestigious Phantastik Preis for Best International Novel.  In 2006 James published Here, There Be Dragons. The book is in its sixth hardcover printing, its eighth paperback printing, and is being published around the world in more than twenty languages.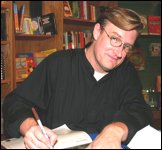 James joins our other guest speakers Jim Minz (editor at Baen Books, formerly of Tor and Del Rey), Joan Johnston (New York Times bestselling romance author), and Mark LeFebvre (president of Canadian Booksellers Association and Author Liaison with Kobo e-publishing platform). Due to an avalanche of other appearances and commitments, Brandon Sanderson won't be able to teach at this year's Superstars, but will be back next year.
Prices go up December 31.  Sign up at SuperstarsWriting.com.
TESTIMONIALS
Here's what past attendees have had to say about the Superstars experience:
"There is no other seminar like this one — anywhere.  The willingness of these authors to share their experience and knowledge was fantastic.  Absolutely every single author who wants to take their career to the next level needs to attend Superstars."—Jen Greyson
"The speakers are personable, available and eager to share their considerable knowledge, skills, experience and support with all attendees.  In addition, the material is practical, useful and presented with wonderful clarity.  Finally, I know of nowhere else an aspiring writer can get this information from a panel of experienced professionals in this manner.  Absolutely wonderful!"—Scott Lee
"I would recommend this seminar to every writer serious about their career!  It does not teach the craft; it teaches the business, which many an artist must know to find commercial success.  However, the seminar is not a clinical bore.  It is warm, fun and exciting.  The accessibility of the pros is amazing and inspiring.  The atmosphere is one of family and support.  The best writers conference I have ever attended." —Lissa Woodbury Jensen
"Superstars seminar has been a life-changing experience for me.  The opportunity to learn the nuts and bolts of publishing and promotion with top professionals in the industry is invaluable, though even more so to me is the realization that making a career in writing is entirely possible.  This seminar gives you the tools and motivation to make it happen.  I can't recommend Superstars seminar highly enough." —Megan Grey Walker
"Superstars Writing Seminar perfectly blended motivation with information.  It sent me home eager to write, and prepared to take my career and my novels to the next level.  I've gone to many workshops, and never found one that actually gave me exactly what I needed to know.  Until now."—E. C. Ambrose, author of The Dark Apostle series
"The lessons I learned during the three days of the Superstars Writing Seminar will take months, if not years, for me to digest, but the connections I made there will last forever."—Martin Greening
"How often can you go to a business seminar and come away feeling like you've made a roomful of best friends?  Not only did I learn more in these three days than I imagined possible, I came away with great writing contacts and great friends.  I recommend it ot every serious writer."—Colette Vernon
"If you are wondering if the Superstars Writing Seminars is worth attending at their current prices, they are not. They are worth several times more. They are educational, motivational and too damn essential for your career to be priced the way they are. I was inspired every moment I was there. If you want to be a writer, and you are ready to do the work, the seminars will start you on your journey to becoming a Superstar."—Nick Ruva
"The place you have to be if you want to be a PROFESSIONAL writer."—M. Scott Boone.
"Attend this seminar if you are serious about writing science fiction and fantasy, fiction, short fiction, games and more."— Gina Moore
"At this point, I'm not sure I'll have a good career as an author, but if I do?  If you're reading this?  The key was Superstars Writing Seminar." —Sarah Bartsch
"I've been a Superstars student for years.  I've learned something new every time, and found the networking indispensible.  These guys really know their stuff!"—Tiffany Brazell
"I could not have chosen a better seminar to attend to strengthen my career.  The speakers are full of amazing and invaluable information that has aided me on my path to become a professional best-selling author.  The real-world, no-nonsense approach while keeping it fun is presented in a way that is simple and easy to understand.  The instructors genuinely care, want to make positive change and create great writers for the future." —Ramon Terrell
"Coming out of Superstars I'm fired up to get home and get to work!  There was something every single day that I learned or experienced that made the whole trip and admission worth it.  The panel is a fount of knowledge, and I have a healthy respect for even the authors I didn't know coming into the seminar."—Kyle Blodgett
"This was my second trip, and I maintain that it is the best source fo information on the business side of writing.  Add to that the opportunity to network with both peers and best-selling authors, and an enormous source of incentive to seit down and get writing (the year after my first Superstars was my most productive ever), and you have a unique experience that cannot be missed." —Greg Little
"As a returning alumnus I've learned that this seminar is an event that can only get better and better.  With the opportunity to enhance the networking skills I learned from the last event, SSWS gave me another chance to launch as a professional and as a writer." —Stone Sanchez
"I learned so much as a new writer — getting to see examples of the myriad paths to successful authorhood was invaluable.  And the many connections from networking will form the basis of our secret weapon team to help each other as we grow as writers, and mature and succeed to be the next Kevins, Rebeccas, Daves, Deans, Brandons, Erics and James.  Two words:  Simply wonderful!" —Katy Ball
"The average panel at any given convention has one or two pros on it.  Superstars Writing Seminar has eight — all with different opinions on the future of publishing."—Jordan Ellinger
"Essential to any aspiring novelist."—Mike Baron
"(In announcer voice) In a mountain range of clunky prose, elusive agents and indy publishing, young writers struggle to gain a foothold on the path to success.  The Superstars Writing Seminar leads the willing droves up the first few switchbacks, gives them a walking stick, a swag bag full of knowledge and sends them into the wild."—Jo Ann Schneider
"The seminar is an increasingly valuable experience.  There is so much information that I had never even considered.  Every aspiring author should go to it."—Gama Martinez
"The network you build and the information you learn at Superstars Writing Seminar isn't only crucial, it's life-changing."— Eric Nease
"What a great community!  The staff is helpful and very inclusive.  They don't hold anything back, and are always available.  Thanks for all your wisdom and knowledge."—JJ Frederickson
"I count this seminar as a major turning point in my career.  The presenters generously shared their time and expertise, inviting us to see into their world and giving us the map to get there."—Rebecca J Carlson
"The best investment in a career an author can make."—Marguerite Mullaney
"The first time at Superstars Writing Seminars changed everything for me.  The second time started my career."—Michelle Corsillo
"If you're serious about making your writing a career, then why aren't you here?"—Rafyel M. Jordan
"If you want to be a professional writer, this is the seminar you Can. Not. Miss.  It will change your life.  Worth every penny!"— Tess Burningham
"The instructors of the Superstars Writing Seminars provide inspiration and expertise gained from many years of industry experience.  I'm sure that this experience will cut years off my goal to be a professional writer."—Jeff Barnhouse
"This is the best seminar I have ever attended.  The friendships I've made and the things I've learned have changed my life forever.  I am a success because of this seminar."—Kim Mainord (writing as Kim May)
"Excellent treatment of the actual 'business' component of the artist's mind.  Nuts and bolts necessary to see the artist a) eats regularly and b) sleeps indoors during winter."—Don Hodge
"I attended this workshop as a mid-career novelist hoping to boost my next series to a new level.  I'm invigorated by the information and excited to dive into my work.  The speakers were generous with their experience, engaged with students and were open to conversation.  Highly recommended for authors who hope to succeed in the new world of publishing."—Elaine Isaak
"Imagine you want to be a professional writer.  Imagine there was an event filled with the best in the business.  Imagine that you will learn about the business, meet writers just like you and have an amazing time.  That thing you just imagined is the Superstars Writing Seminars.  What are you waiting for?  Sign up already!"—Robert J. McCarter
"Every new writer should be here.  I will always recall the Superstars Writing Seminar as the spark that lit the fire under me to launch my writing career.  Anyone who writes, or whill start to write, will walk away from this seminar a better, more directed, more professional writer.  I had a helluva good time too!"—R. Jon Rock
"As a second-year alumnus, I find the Superstars Writing Seminar an invaluable resource on the journey to get published.  The professional writers cover all aspects of the business from finding an editor to dealing with finished contracts.  The ability to network and form friendships and relationships with similar-minded people is great for building confidence and having support.  And finally, after the seminar, you leave motivated and ready to write."—Matt Jones
"The Superstars Writing Seminars teaches writers about the profession.  Not how to write, but how to be a writer.  The panelists understand the industry, understand the changes and understand what it means to be a professional writer.  This seminar is invaluable for any new writer who wants to avoid making rookie mistakes and wants to make writing a profession."—Geir Lanesskog
"The seminar provided the knowledge that you can make a living as a writer.  The message of branding was very important, as well as being prolific in my writing.  James was an unexpected surprise.  His stories provided a new level of inspiration to my writing career.  Kevin provided inspiration for me to sell my Writers of the Future semi-finalist.  I would highly recommend the seminar to any author looking to become a professional ore move their career to a pro level."—Francis Bruno
"Superstars Writing Seminars is invaluable.  Not only does it teach you the business of writing, it welcomes you into an inspirational community of writers.  This is why I chose to come back two years in a row, and plan to come back again."—Ken Hoover
"The Superstars Writing Seminars are a can't-miss opportunity to meet, interact with and learn from some of the best writers in the science fiction and fantasy community.  If you are interested in professional publication, this is an incredibly valuable experience."—Bill Heinzen
"In a world of uncertainty and danger, a group of stalwart authors band together to reveal the secrets of the publishing industry.  Three days.  More than twenty presentations and panels.  Stories that will make you laugh and cry.  Inside information on what editors and publishers want.  Superstars Writing Seminar:  It really is that awesome."—Tristan Brand