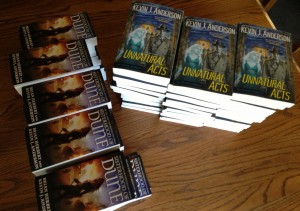 I have two new book releases to start out 2013: Unnatural Acts, the second full-length Dan Shamble, Zombie PI novel, and the paperback of Sisterhood of Dune, with Brian Herbert.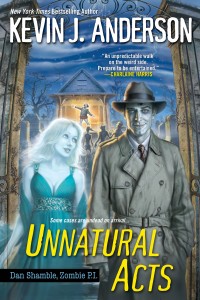 UNNATURAL ACTS
In the Unnatural Quarter, golems slave away in sweatshops, necromancers sell black-market trinkets to tourists, and the dead rise up—to work the night shift. But zombie detective Dan Shamble is no ordinary working stiff. When a local senator and his goons picket a ghostly production of Shakespeare in the Dark—condemning the troupe's "unnatural lifestyles"—Dan smells something rotten. And if something smells rotten to a zombie, you're in serious trouble…
Before his way of life, er, death is destroyed, Dan wants answers. Along the way, he needs to provide security for a mummified madame, defend a mixed-race couple (he's a vampire; she's a werewolf) from housing discrimination, and save his favorite watering hole, the Goblin Tavern, from drying up. Throw in a hairy hitman, a necro-maniac, and a bank robber who walks through walls, and Dan Shamble's plate is full.  Maybe this time, the zombie detective has bitten off more than he can chew!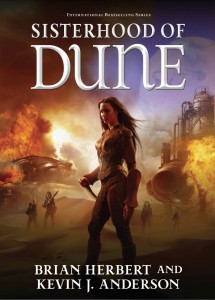 SISTERHOOD OF DUNE
It is 83 years after the last of the thinking machines were destroyed in the Battle of Corrin, and great changes are brewing that will shape and twist all humankind.
Raquella Berto-Anirul has formed the Sisterhood school on the jungle planet Rossak as the first Reverend Mother. The descendants of Aurelius Venport and Norma Cenva have built Venport Holdings using mutated spice-saturated Navigators who fly precursors of Heighliners. Gilbertus Albans, the ward of the hated robot Erasmus, is teaching humans to become Mentats…and hiding an unbelievable secret.
The Butlerian movement, led by Manford Torondo and rabidly opposed to all forms of "dangerous technology," begins to sweep across the known universe in mobs, millions strong, destroying everything in its path.
Every one of these characters, and all of these groups, will become enmeshed in the contest between Reason and Faith. All of them will be forced to choose sides in the inevitable crusade that could destroy humankind forever.
Find both of these novels at your favorite bookstore!