Time to look back on the publications from 2012, but a visual is always more effective!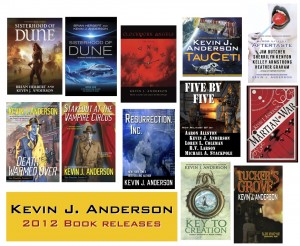 Another good year, and I've already got a lot of irons in the fire for 2013, with the first new release UNNATURAL ACTS (Dan Shamble, Zombie, PI), due out in January.
And, for a special treat—zombie flesh tastes funny. Want a free sample?  My standalone Dan Shamble story, "Stakeout at the Vampire Circus," is now available as a FREE DOWNLOAD for Kindle and nook.  If you haven't yet been introduced to my hilarious zombie private detective, this is a good place to start.