Eleven years ago, I spent a week out in spectacular Capitol Reef National Park, hiking day after day with my microcassette recorder, and writing dozens of chapters in HIDDEN EMPIRE, the first volume in my "Saga of Seven Suns" series. It was a terrific way to get real momentum going and to immerse myself in the big universe I was creating.
Now, as I've just dived into writing THE DARK BETWEEN THE STARS, the first volume in a new "next-generation" trilogy set in the Seven Suns universe, it seemed a perfect opportunity for me to go back to Capitol Reef.  It certainly worked before.
So, with my detailed outline in hand, notes for 20 chapters to write—I was being optimistic but prepared—I made my reservations at a Best Western in Torrey, Utah and left Colorado Springs early in the morning for the nine-hour drive.  During the drive I dictated four chapters (using a digital recorder this time, as opposed to the microcassette recorder I used last time), and pulled up at the hotel in late afternoon about an hour before sunset.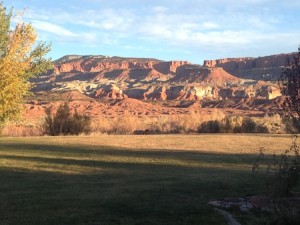 The view from my room.
Because this is the dead season (surprisingly so, since the weather is perfect), the hotel rates were ridiculously low—$61 per night for a king jacuzzi suite—but most of the restaurants in town were closed.  I had a microwave dinner, edited some chapters in the evening, and went to bed for some hiking and writing.
I drove around the main area of the park, saw some of the landmarks I remembered from the last time, drove the 20-mile Scenic Drive and hiked down Capitol Wash, then up to some interesting "tank" formations where water pools all season long, and to great stone tower called the Golden Throne.  And I wrote three chapters.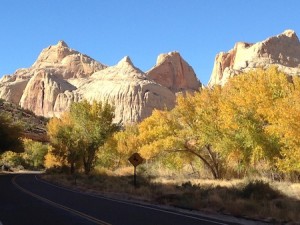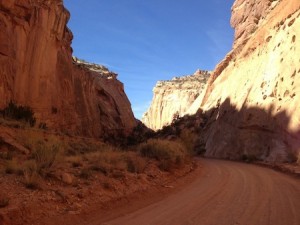 Capitol Wash
The Golden Throne.

The following day I did an epic drive, a 65-mile loop on a 4WD road through Cathedral Valley in the north end of the park, an area I had not seen before.  After checking with the ranger station about road conditions, I drove across an intimidating ford of the Fremont River, then rolled out into the deep desert, wide expanses of bleak rocks, up into clay badlands called the Bentonite Hills, and then around into Cathedral Valley, which was filled with spectacular giant rock towers.  I stopped to do brief side hikes, but because the road was so challenging I only managed to get two chapters done that day, and I edited in the evening.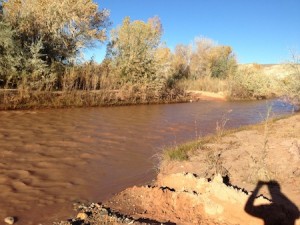 Fording the Fremont River.
Jailhouse Rock.
The view into Cathedral Valley.
The Temple of the Sun.
The Temple of the Moon.
Hickman Bridge.

Another big expedition for Day 4: I drove out to Horseshoe Canyon, a separate and very remote unit of Canyonlands National Park, known for its Native American pictographs on the canyon wall.  I reached the trailhead by driving 50 miles down a paved road, then another 35 miles down a dirt road (sometimes smooth, sometimes teeth-rattling washboard), past an offshoot dirt road that led 20 more miles to the nearest ranger station, past sand dunes, and finally to the trailhead at the top of the canyon.  I didn't see a single other vehicle during the entire drive, but there were three other cars in the parking lot.  This was about dead-center in the middle of nowhere.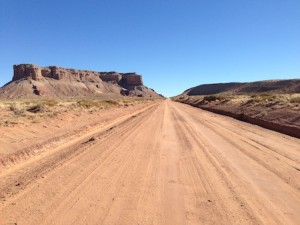 35 miles of this…and this was the good road.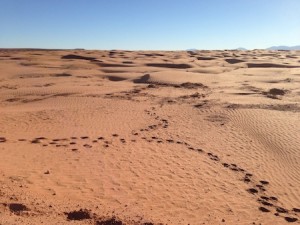 Horseshoe Canyon is connected to Blue John Canyon, which has recently gained notoriety after the ordeal of Aron Ralston (as shown in the film 127 Hours), who had his arm pinned by a boulder in a slot canyon and he had to self-amputate in order to free himself.  After Aron had cut off his arm with a pocketknife, he staggered out of Blue John Canyon and into Horseshoe Canyon where he was rescued by a couple of hikers.  Seeing how remote this was, he was lucky even to find a hiker there. I was only one of a couple of people there all day.
At the trailhead, the Park Service had placed an ominous sign that read, in part: "ATTENTION BLUE JOHN HIKERS.  Bluejohn Canyon is NOT in Canyonlands National Park. It is on BLM land in a Wilderness Study Area. There are no marked trails. The canyon is NOT patrolled. YOU ARE ON YOUR OWN when you hike Bluejohn Canyon. This is a hike requiring TECHNICAL knowledge and you should be PREPARED FOR SELF RESCUE."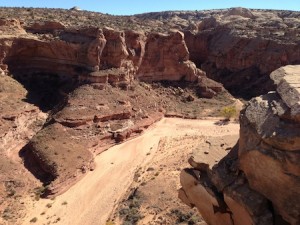 I hiked down the steep canyon wall, picking my way from one rock cairn to another until I reached the bottom, where the trail simply followed the wash winding between rock walls.  Not long after I started trudging along the sandy canyon bottom (hiking in deep sand is very hard!) I encountered another man walking toward me who had been to see the petroglyphs. Since it was so unlikely to see anyone else out there, we stopped and chatted for a few minutes and I headed back down the canyon, stopping at several alcoves with amazingly well preserved Native American rock art.  In a very large alcove, I sat under some paintings and had my lunch, then kept walking down the canyon, dictating chapters, enjoying the beauty and the solitude. Yes, Aron Ralston had been fortunate to find someone else down here.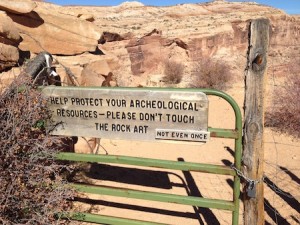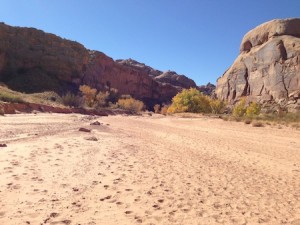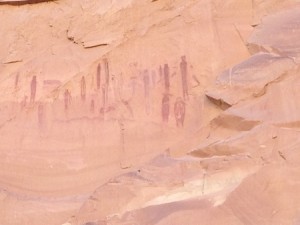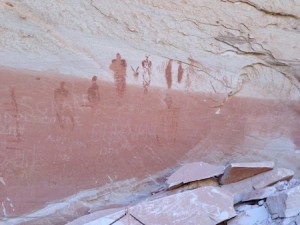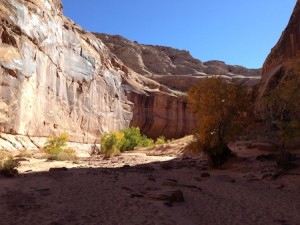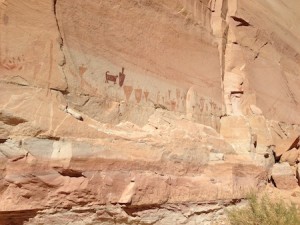 By mid-afternoon I turned back, knowing it was a long hike and a very long drive to my hotel.  I'd gotten three chapters done. Back along the canyon bottom until I found the cairn marking the trail up the wall, I started climbing.  About halfway to the top, I bumped into the other hiker I had met many hours earlier that morning. He'd gotten violently ill halfway up the canyon wall (food poisoning, I think). As I described, this is not at all a good place to run into medical trouble. I helped him back up to his car at the top, taking it slow, with plenty of water and encouragement.  He had recovered substantially by the time we got to his air-conditioned car.  It was well after dark by the time I got back to my hotel.
Day 5, I did a long loop drive down to the southern part of the park, up and over Boulder Mountain, and then along the Burr Trail, that winds through canyons and up into the reef formation, the "Waterpocket Fold" that is so distinctive in the park.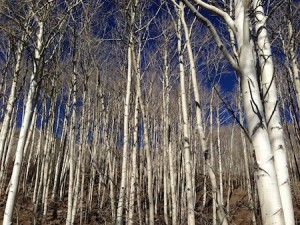 Ghost trees on Boulder Mountain.
At one point, I stopped the car to take photos of interesting rock formations, and I caught a glimpse of light through a tall tower—an unmarked rock window.  I walked farther down the road to get the best perspective on the window, when two jets appeared overhead flying different paths, but their vapor trails looked like arrows heading right toward the rock tower.  Right place at the right time!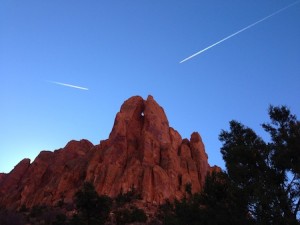 Farther into Capitol Reef, I hiked out to Peekaboo Arch, then to a terrific overlook of the entire Strike Valley (breathtaking, and much too huge to show up well on a photo), and then a bumpy road back up to the main road again, and a pause in the park to wait for a cattle drive along the road.  Three more chapters done that day.  More chapters edited in the evening.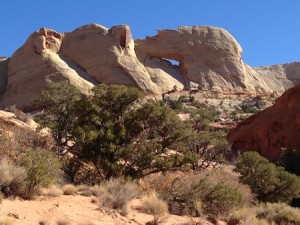 Peekaboo Arch.
Strike Valley.
Rush hour in Capitol Reef.

Day six, time to head home. I got up early for a beautiful sunrise (all the while listening to the news and the havoc Hurricane Sandy was wreaking on the east coast), and then drove off for the long trip home.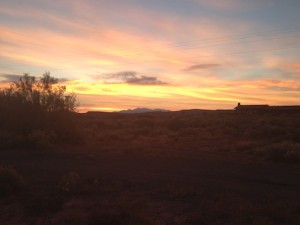 But I wasn't ready to be done just yet.  Before I reached the interstate, I took a side-trip out to Goblin Valley State Park, a fantastic wonderland—familiar to many because it was used as a location in the film Galaxy Quest.  A trailless valley filled with amazing hoodoos, all kinds of incredible shapes…a great place to do writing.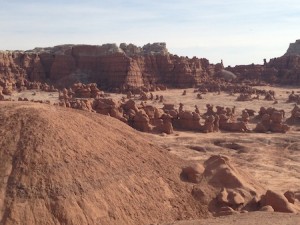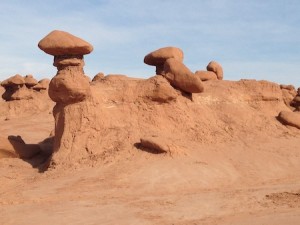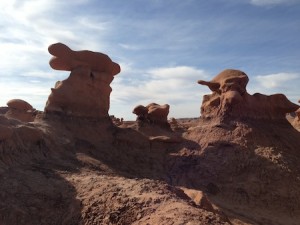 Then back to the car and off to the Interstate (which Neil Peart calls a "mileage disposal unit").  It was an uneventul, if long, drive home—another four chapters dictated.  Total of 19 chapters written during the trip, 135 pages edited.  Lots of miles hiked, scenery absorbed…and a great time.  I love my office.