Last week we traveled up to Calgary, Alberta, where we were guests for the "When Words Collide" writers conference.  Rebecca and I arrived at the beautiful airport, were picked up by Ryah and John (who took care of us for the entire convention). We had a group dinner for convention staff and guests, then a reading and signing that night at the University of Calgary library for a crowd of about fifty people, along with our fellow guests urban fantasy writer Kelley Armstrong, mystery writer Anthony Bidulka, and musician/lyricist Vanessa Cardui.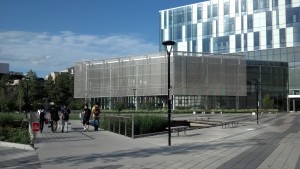 University of Calgary library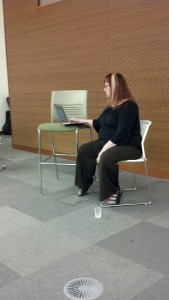 Rebecca reads
Signing: Rebecca Moesta, Kevin J. Anderson, Kelley Armstrong
Next day, Friday, we all had a lunchtime reading at the Calgary Public Library as well, then in the evening we opened the When Words Collide conference with a set of keynote speeches.  (You can read my speech in a previous blog, Olympics & Writing.) Saturday, we had  an autographing and panels on science fiction romance, Rebecca had a solo panel, and I gave my "Popcorn Theory" speech. Saturday night, we attended the Aurora Awards banquet, then parties.  Sunday we finished the convention with another signing, our "Things I Wish Some Pro Had Told Me" talk and my "Eleven Tips to Increase Your Writing Productivity" and a reading of DEATH WARMED OVER, CLOCKWORK ANGELS, and a humorous fantasy short story. Some writer friends gathered for a barbecue at the home of Calgary resident (and Superstars 2009 graduate) Ann Cooney, and then we returned to the hotel for the dead dog party.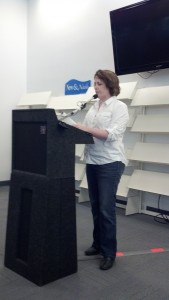 Kelley Armstrong reads at the Calgary Public Library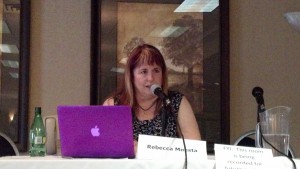 Rebecca at her solo panel
At the Aurora Awards Banquet, the "Canadian" just seemed to shine out of me.
We travel so often that we rarely spend extra time for sightseeing in a city we're visiting, but after When Words Collide offered to let us stay an extra day so we could see Banff and Lake Louise, we jumped at the chance—that was on our Life List.  I can't describe how breathtaking the scenery was; even with the gorgeous mountains here in Colorado, these crags were spectacular. They looked like mountains designed as part of an amazing movie set for a James Cameron movie.  I'll let the photos speak for themselves.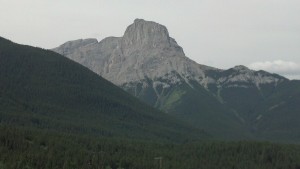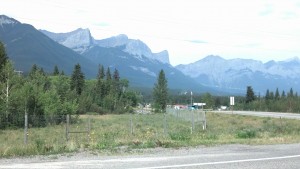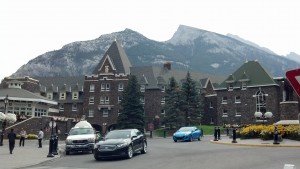 Banff Springs Hotel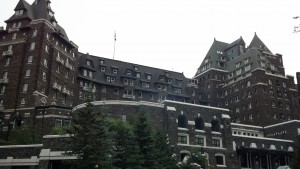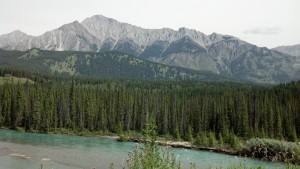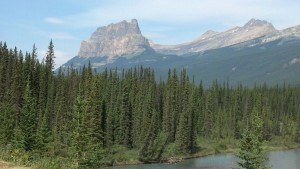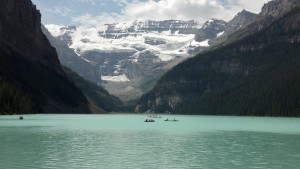 Moraine Lake
Meeting authors Robert J Sawyer and Susan Forest on the road from Moraine Lake
Lower falls in Johnson Canyon (and, yes, the following are all DIFFERENT falls)
Bow Falls in Banff